Agility PR refreshes website to place stronger emphasis on its skills in B2B thought leadership campaigning for tech firms.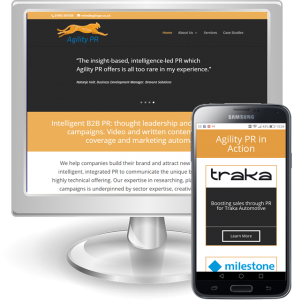 After a review of its own external communications working alongside digital marketing guru and management consultant Warren Knight, Agility PR has completed a six month refresh of its website, which goes live today.
As well as bringing the look and feel of the site bang up-to-date, the site has been re-written to showcase our core expertise: written and video thought leadership content creation and PR campaign construction.
The site also highlights the agency's heightened focus on preparing content for marketing automation campaigning. Agility PR is working with an Infusionsoft partner agency Abundant Solutions to offer a one-stop shop to businesses that are struggling to make the transition from media-only PR campaigning to Media & Marketing Automation campaigning.
Miles Clayton, founder and MD at Agility PR explains:
"The great thing about learning your craft writing content worthy of securing lots of trade media coverage consistently over a 20 year period is that this same high skill bar can also be applied to creating powerful multimedia marketing automation mailers and campaigns which are capable of activating, engaging and qualifying prospects for tech firms. Digital marketing is maturing to such a level that integrated sales and marketing campaigns are finally possible and we want to help tech firms make that transition now."
The new site also showcases the work it has recently completed for clients which highlight the common focus on producing high impact, high relevance content for tech firms selling products and services into a range of 'domain knowledge-heavy' markets including pensions, investments, insurance, automotive and healthcare.
Published: 1 October 2018