"The only important macro-economic driver for business today is technology"
Nick Train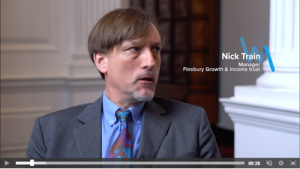 I'm paraphrasing a key point that one of the most impressive fund managers of our time, Nick Train , made in a video interview he gave to Gavin Lumsden, editor of Citywire, last month. His argument was that the only real 'macro' game in town in terms of reliably creating wealth is linked to clever application of technology.
By the same token, poorly-applied technology can undermine profitability and destroy balance sheets. Technology, and most notably over the last 25 years – the internet, can disrupt markets in a way in which products and services can be commoditised much faster than in the past. In the face of this, picking long-term wealth-generating winners has become much harder you would think.
However, Train who is renowned for his long-term, patient investing as well as top quartile fund performance over many years, indicated that the key protection against being 'nibbled to death' by the online retail giants (as another fund manager put it), is to build and maintain your brand with great care, diligence and consistency.
In Train's focus area which is consumer products, the 'secret sauce' lies in product owners forming and nurturing ever-stronger and closer connections with their customers. Digital marketing in general makes that engagement easier and quicker to engender than was the case before. In short, we get more loyal (and become more valuable) to the brands we buy, faster than we used to.
That's all very well, but surely the business to consumer world which Nick Train is watching like a hawk (his Finsbury Growth & Income Trust Plc has major holdings in Diageo, Burberry, Heineken and Unilever amongst others) cannot help us in the Business to Business communications world?
Au contraire. It's becoming increasingly clear that the same rules apply in B2B comms, albeit on a smaller scale as most B2B firms are seeking engagement with no more than a few thousand customers and prospects rather than the millions of potential buyers of Heineken.
Careful, well-researched product or service definition and then consistent promotion of your product/service/proposition and the ethos of the company providing it, has never been more important to stand out from the crowd.
If you get this right it helps mitigate against new entrant disrupters 'nibbling away' at your market opportunity. It also helps you keep top of mind with the companies you want to work for, keeping you in the frame to solve the problems that you must know they are wrestling with.
Thoughtful engagement with the issues in the market you serve and a deep understanding of the pressures that your customers and prospects are under, is therefore the key to authentic and authoritative B2B communications. So, you are not only exposing your brand values, and product offerings, but also your 'pools of expertise', to the light.
The best way to expose your expertise in a digital age where everyone is fighting for attention, is to run well-planned, consistently executed Thought Leadership-based external communications campaigns which palpably link known and emerging industry challenges to your proposition, product family and company as a whole. Oh, and you need to do this across multiple digital as well as traditional channels not just via the trade media coverage today.
I'm so convinced about this that I'm practising what I breach by talking a lot more to clients and in this website about the power of Thought Leadership. Thought Leadership campaigns help you build a fortress around your customers, attract prospects towards you more quickly and should also act as the engine room of the content you are creating for your target media, website, marketing collateral library and marketing automation mailers as you make that transition. Content must be less knee jerk and more hardwired into real products and propositions, flowing out of campaign streams into multiple, multimedia channels.
Author: Miles Clayton
Published: 18 September 2018