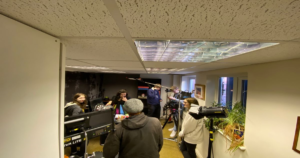 Lights, camera, action!
Agility PR HQ is taking centre stage in a new film entitled "One Hell of a Day" which is currently being shot on location in Hertford. The film is the brainchild of 14 students currently studying for a BA (Hons) in Film and TV Production at the University of Hertfordshire.
The film, which will represent 50% of their final grade, is being filmed in collaboration with other degree faculties including paramedic sciences (for help with filming an accident) and creative arts (for help with prop making and set dressing). Whilst the film is largely being shot on campus at the University of Hertfordshire, the team felt filming at another location would add an extra dimension to the film.
Miles Clayton, Managing Director at Agility PR said:
"We are delighted to help the students with a venue for their filming. It's amazing just how many crew, technical equipment and actors can be squashed into our meeting room. When I agreed to provide the location for a 4 day shoot, I had no idea it would involve so much kit! On the first morning all the people and equipment took over most of the office as well as our meeting room! It really is fantastic to see first-hand the next generation working together on in a creative project like this and we're only too happy to help them on their way. It's actually been quite exciting to watch the filming develop. One of the budding actors – Elliot Cable – is even having to take a break during filming to attend a major audition in London. Who knows, he could even be the next Benedict Cumberbatch?!"
Published: 14 February 2020